DEPARTMENTS | EQUIPMENT

Programming Department
Our programming department utilizes IBM & Macintosh platform computers. Our CAD CAM programming capabilities are Gibbs and Associates 4.0, Virtual Gibbs and Mastercam software.
---
Mill Department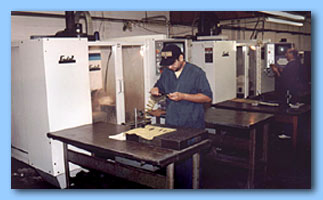 For high accuracy and quick rapids, we use Hitachi Seiki and Fadal vertical and horizontal machining centers. All of these mills are equipped with automatic multi-tool turrets, programmable indexers, and a large selection of other support tooling. Some of these machines have rapids of 1000 inches per minute. They are also capable of performing high-speed rigid tapping, which allows for less manual labor.
---
Lathe Department
| | |
| --- | --- |
| | Our lathe department is equipped with a wide range of Hitachi Seiki CNC turning centers. These machines are able to travel at rapids of up to 1200 inches per minute. |
| They can hold close tolerances and surface finishes on diameters up to 8 inches and lengths up to 19 inches. | |
---
Quality Control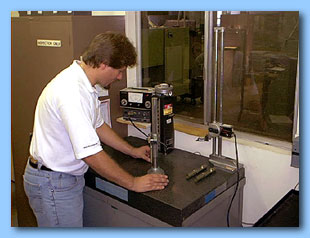 H&B Engineering maintains our Q.C. department in accordance with MIL-I-45208A. To help maintain the highest quality possible, all jobs are issued shop manufacturing procedures to track all operations and procedures. Each operation is inspected to ensure that the operation has been completed per blue print. All records are traceable and kept for a period of five years. Our inspection equipment is checked and calibrated periodically and calibration reports are maintained. Copies of our Quality Control Manual are available upon request.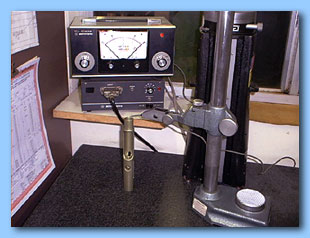 HOME | ABOUT US | CAPABILITIES | PROJECTS | CLIENTS | R. F. Q.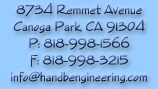 E-Mail us for more information at: info@handbengineering.com