May 2001: H&B Engineering becomes a woman-owned corporation when Marjorie takes over the title of President. Marjorie oversees all of the business operations while Daniel manages the shop floor.
January 1999: After 20 years of employment with H&B Engineering, Daniel & Marjorie Bashaw take ownership of the corporation, with Daniel becoming President.
January 1980: H&B Engineering invested in high quality numerical controlled machinery which will continue into the future.

*Reason: Growth in business of producing high precision parts for many customers in the electronic, computer & aerospace industries. Also precision prototype machining & tooling for research & development of engineering related projects.

July 1975: H&B Engineering incorporated to H&B Engineering, a division of Hartung Engineering, Inc.
June 1974: H&B Engineering moved to a larger manufacturing facility @ 8734 Remmet Avenue in Canoga Park, California.
January 1973: Hermann Hartung took full ownership of H&B Engineering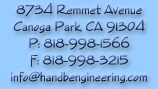 E-Mail us for more information at: info@handbengineering.com

HOME | ABOUT US | CAPABILITIES | PROJECTS | CLIENTS | R. F. Q.