Welcome to H & B Engineering.
We are a manufacturing facility with state of the art equipment
including CNC Turning and CNC Machining Centers.
At our facility, we manufacture many different types of machined parts for the
defense, medical, aerospace, automotive and heavy equipment industries. We specialize in close tolerance precision production runs and prototype work.


HOME | ABOUT US | CAPABILITIES | PROJECTS | CLIENTS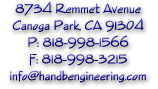 E-Mail us for more information at: [email protected]
© Site Designed by Hudson Interactive 2002